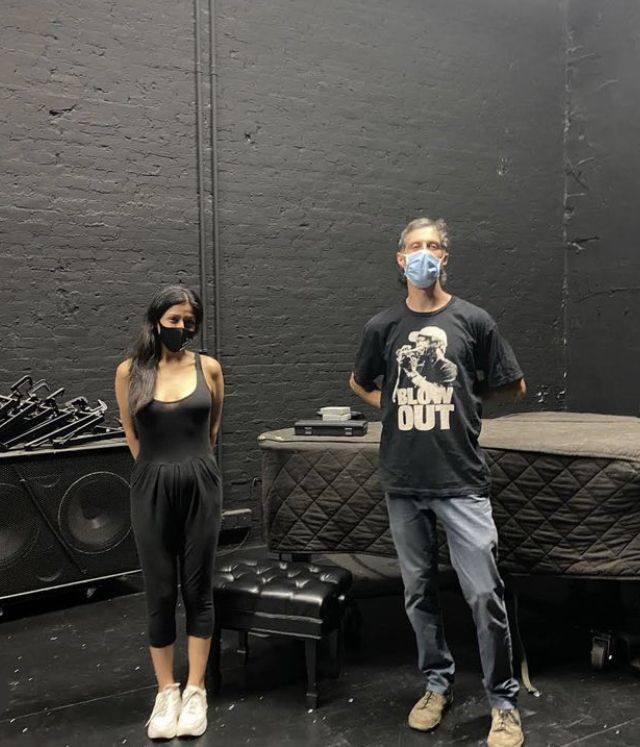 Events/2023
Maria Chavez & Jordi Wheeler
Chavez and Wheeler have been performing as a duo since 2015.
Generating results from active listening with a configuration of instruments (multiple turntables, piano, guitar, electronics) Chavez and Wheeler's performances and recordings speak to their history with improvisation, allowing the present to dictate each work. Their duo work has been presented by Cruces Espacio de Arte in Madrid, Spain, as part of the Abasement Series at Max Fish, NYC and has aired on KunstRadio, Vienna, 3cR Melbourne, Australia, the Lot Radio, Brooklyn.
Their latest interactive installation, a listening station containing video and sound from the duo's various performances alongside Maria's white Carrara Marble sculpture, is currently on view at Columbia University's Wallach Gallery through Sept. 19, 2023.
Maria Chavez and Jordi Wheeler's first recorded release was for Takuroku, it's titled The Kitchen Sessions: 1-5, 2020, and it is an audio result of a 2 day recording residency at the legendary theater The Kitchen in NYC.
Due to Covid 19 quarantine restrictions, The Kitchen had to temporarily close, but was still providing the venue as a resource for artists to use during this difficult time. The NYC venue offered Maria Chavez a 2 day recording residency in their main space with an onsite engineer and access to their Steinway B grand piano.
She invited one of her regular collaborators, Jordi Wheeler, most recently a member of Amen Dunes, to bring his multifaceted talents on prepared piano, bass guitar, and electronics to the session.
These recordings are the result of active listening and improvisation with a new configuration of instruments inside the legendary theater space.
Unlike other performances of the concert evening, Chavez and Wheeler's show will take place in the foyer of Hanzas Perons, and an installation will remain in this space after the performance is over.
https://www.skanumezs.lv/en/festival2023/maria-chavez-jordi-wheeler/